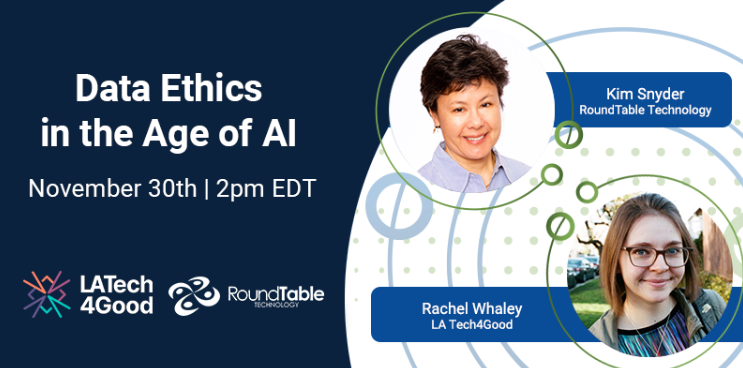 Data Ethics in the Age of AI – RoundTable Technology & LA Tech4Good
Join us for our upcoming joint webinar where LA Tech4Good's Data Equity Program Lead, Rachel Whaley and RoundTable Technology's VP of Data Strategy, Kim Snyder will present "Data Ethics in the Age of AI."
We will navigate the complexities of ethical data use in the fast-evolving landscape of artificial intelligence tools. As AI technologies become more readily available to nonprofit organizations, understanding the ethical implications of the technology and the data becomes crucial.
This webinar is tailored to demystify the fundamentals of data ethics, especially within the fast-rising AI domain, and equip you with the knowledge to make informed decisions.
Key Discussions:
– Introduction to AI Tools: Gain clarity on the various AI tools at your disposal, how they operate, and where risks to privacy exist
– Data Ethics Fundamentals: Delve into the core principles of ethical data use and why they're more important than ever in the AI context
– AI Policy: Understand how having an AI Acceptable Use Policy will help ensure your organization's compliance and integrity
– AI Use Cases for Nonprofits: Explore practical scenarios to critically assess the suitability of AI tools for your nonprofit's unique objectives and challenges.
Whether you're new to AI or looking to refine your organization's data strategy, this webinar will provide valuable insights and frameworks to guide your use of AI in alignment with data ethics principles and, most importantly, with your organization's mission.