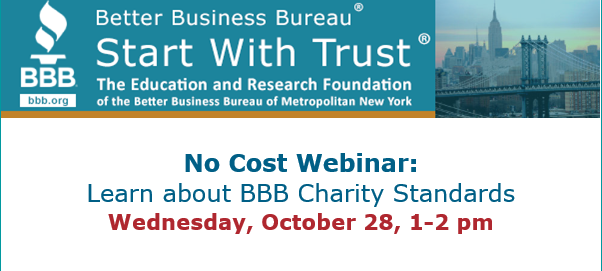 Learn about BBB Charity Standards
No Cost Webinar:
Learn about BBB Charity Standards
Wednesday, October 28, 1-2 pm
Join us for a free 60-minute webinar.
• Learn why BBB Standards represent nonprofit management practices that can be helpful to your organization.
• Get details about the 20 BBB Standards for Charity Accountability, how to meet them, and the BBB Charity Report process.
• Find out about recognition benefits only available to a BBB Accredited Charity that has joined the BBB Charity Seal Holder program.
Who Should Attend?
• Executive Directors
• Chief Operating Officers
• Chief Financial Officers
• Development Officers
• Program Managers
• Charity or Philanthropy Consultants & Advisors
• Board Members
• and other nonprofit executives interested in learning about how the BBB Charity Accountability Program can help your organization thrive.
FIND OUT THE FACTS. There is no cost to attend. Advance registration is required.
BBB Charity Accreditation: There is no cost to participate in a BBB Charity Report and no cost for BBB Accreditation.
The BBB Charity Seal program is available on an optional basis exclusively to charities that meet all BBB Standards, with a sliding scale fee based on fundraising income size and a Seal licensing agreement.