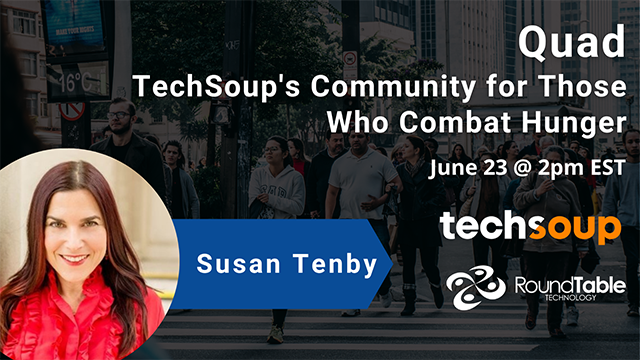 QUAD – TechSoup's Community for Those Who Combat Hunger
Join us on June 23rd with TechSoup's Director of Global Community Susan Tenby for an informational webinar surrounding TechSoup's new community Quad.
It's a crucial time when food security organizations around the world need to keep pace with growing demand. In Quad you can share ideas, find and lend support, and get answers from a community of people who are alongside you on the journey to combat hunger.
This is the first step in launching Quad, a peer-to-peer community. We are starting with those groups — no matter their mission statement — that are providing meals and food in their communities. We want to help you as you make sure people in your community do not go hungry.
It's a unique online space where you can celebrate your wins and learn from others. Membership includes access to technology services, products, courses, articles, forum discussions, virtual events, and a peer-to-peer support network.  This membership provides access to tech products, services, and courses in the TechSoup catalog for one single fee.
Learn how Quad can help your organization save hundreds of dollars every year.